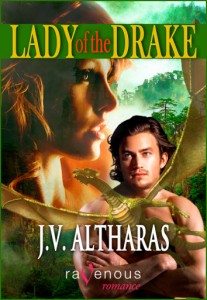 I'm thrilled to announce that Lady of the Drake has just been released, officially making me a published novelist. I'm really happy with how it turned out, and I think you will be too.
It's available in e-book from Ravenous Romance, Amazon
and pretty much everywhere else e-books are sold. It comes in .pdf as well as formats for your Kindle or any other e-reader.
Read the first chapter FREE (PDF) or Read Here at Twisted Erotica
Buy Lady of the Drake from Ravenous Romance (PDF plus all e-reader formats)
Buy Lady of the Drake for Kindle at Amazon
Read A Shalar Is Born, the first prequel short story
Listen to A Shalar Is Born on Episode 36 of Ending The Sexual Dark Age
Chapter One
Lana trudged through the depths of the ancient forest, her pack growing heavier with each step. Dragons had claimed these woods, and the mountains beyond them, for as long as anyone could remember. Legends told of the drakes defending their borders without mercy, and she was over a day's hike into the woods.
Lana chose reason over fear. No dragons had been seen in her lifetime; and rare, valuable herbs grew throughout Ashen Forest. She had been venturing within since she'd been a farm girl on the edge of the vast forest, growing bolder with each expedition. Strange things might indeed roam the trees, but aside from the expected woodland creatures Lana had never seen more than shadows in the corner of her eye, nor heard more than rustling in the night.
A Prequel to Lady of the Drake
Hear the author reading this story on Episode 36 of Ending The Sexual Dark Age
Celeste rode into town on her father's horse, planning to spend the night at the inn.
Eddleton was a frontier village in the Kingdom of Saria, an outpost of modest civilization far from the great cities of the East.
Its wide streets and wooden buildings were home to about two-hundred; not counting all the farmers, trappers and traveling merchants who might be in town on a given day. She was in town to buy seeds for her family's spring planting, with a second agenda her father probably wouldn't approve of.
Celeste arrived at the smithy just as Darus was putting the last shoe on a horse. The village blacksmith was a few years older, with quite a reputation among the local ladies; due to equal parts charm and skill with his cock. He also had the body of a man who swung hammers all day and no intention of settling down, all of which made him a perfect candidate for a bit of sweaty recreation.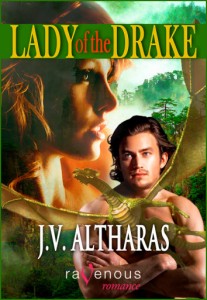 Introducing the cover art for my novel. I'm really happy with how it turned out, and props to Ravenous Romance for allowing authors to have a lot of input on cover art.
I'm really glad I wrote this book, which never would have happened without an inspirational conversation with my editor. I think you guys will love it once it's released a little later this year. For now, I'm cooking up some prequel short stories to introduce you to a few of the characters.
To learn more about the book and see a larger image of the cover, CLICK HERE.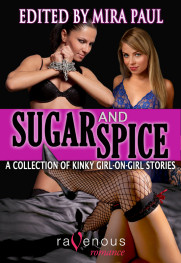 Sugar & Spice, Kinky Girl-On-Girl Stories, Edited by Mira Paul, has been officially released by Ravenous Romance. As I mentioned on episode 20, it was great working with RR on this anthology (which includes a story by yours truly titled "Breakfast At Jackie's").
It's available as an e-book only for only 5 bucks. I've had a chance to read through several of the other stories at this point, and I can tell you that there is some HOT, well written erotica between the covers.
If you write reviews of erotica, or you know someone who does, please let me know and I'll get a review copy sent out.
Thanks to all of you for your support!
Click the box below to listen via the Flash player
Ending the Sexual Dark Age, Episode 20
A sensual tale of erotic fantasy introducing the World of Aeodar, a publication announcement for J.V.'s short story "Breakfast at Jackie's" in Mira Paul's Sugar & Spice (Ravenous Romance), and a bit of inspirational heavy metal from J.V.'s archives.
Show Links:
Read "The Taking of Ariel" here on TwistedErotica.com
Direct Download: Sexual-Dark-Age-020-Twisted-Erotica-Taking-Of-Ariel.mp3
Click the box below to listen through the flash player

From Ending The Sexual Dark Age, Episode 15
Something a bit different this time, as I read an original erotic short story for the audience.
Show Links:
Read "Timing Is Everything" on TwistedErotica.com
Direct Download: Sexual-Dark-Age-015-Twisted-Erotica-Timing-Is-Everything.mp3
Podcast Website: SexualDarkAge.com
The Shame Game
This episode examines shame as it pollutes modern sexuality, primarily in relation to the efforts of the Religion Industrial Complex
Sexual-Dark-Age-005-The-Shame-Game.mp3
Podcast Website: SexualDarkAge.com
Love Her Long Time
Episode 4 covers various ins and outs of male stamina, starting with dispelling myths and understanding realistic expectations; then moving on to methods that can be used by both men and women to improve performance and longevity.
Sexual-Dark-Age-004-Love-Her-Long-Time.mp3
I need to take a moment to apologize to the many devoted readers that this site has developed. It might seem to you that I've been focusing on the podcast instead of writing lately, but that's not the case. I'm polishing my novel, which is a slow process, and working on short stories for some anthologies. Unfortunately, this means that I'm not turning out all that much new material that I can post for you. Just keep your eye on the site, before too awful much longer there will be some new, free, twisted smut to get your motor running.