Cover Art | Lady of the Drake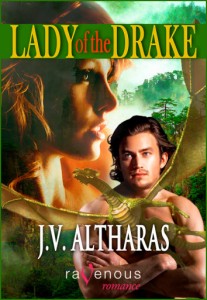 Introducing the cover art for my novel. I'm really happy with how it turned out, and props to Ravenous Romance for allowing authors to have a lot of input on cover art.
I'm really glad I wrote this book, which never would have happened without an inspirational conversation with my editor. I think you guys will love it once it's released a little later this year. For now, I'm cooking up some prequel short stories to introduce you to a few of the characters.
To learn more about the book and see a larger image of the cover, CLICK HERE.