Lady of the Drake Released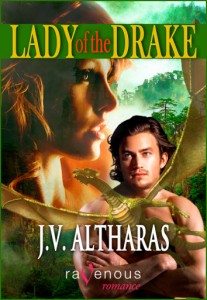 I'm thrilled to announce that Lady of the Drake has just been released, officially making me a published novelist. I'm really happy with how it turned out, and I think you will be too.
It's available in e-book from Ravenous Romance, Amazon
and pretty much everywhere else e-books are sold. It comes in .pdf as well as formats for your Kindle or any other e-reader.
Read the first chapter FREE (PDF) or Read Here at Twisted Erotica
Buy Lady of the Drake from Ravenous Romance (PDF plus all e-reader formats)
Buy Lady of the Drake for Kindle at Amazon
Read A Shalar Is Born, the first prequel short story
Listen to A Shalar Is Born on Episode 36 of Ending The Sexual Dark Age